Description
Car & Travel
The Bracketron™ Mi-T Grip™ Vent Mount is not your typical car mount for your smartphone or other hand held device. Instead of mounting to the windshield, dashboard or floor, this mount attaches to the vent louvers in your car. It's great to have on-board when you're on the road and need help with navigation. Made with Bracketron's exclusive XTremeGrip™ universal holder, the Mi-T Grip steadily holds many of today's mobile devices within view to give users the ability to drive safely. The Mi-T Grip Vent Mount securely holds your device in portrait or landscape mode. It works with horizontal or vertical air vent louvers and allows for one-handed operation with full access to all device controls. Use it with or without a case. It will hold most mobile devices 3.5" – 6". What's In the Box One Bracketron™ Mi-T Grip™ Vent Mount.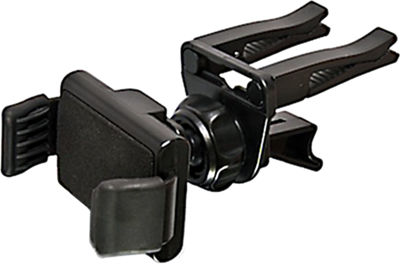 Catalog Name: Verizon Wireless Product Catalog
Manufacturer: Bracketron
Keywords to find us: Unique grip with rotating head securely holds most mobile devices 3.5" – 6"
Easy, one-handed operation with full access to all device controls
Compatible with horizontal and vertical air vent louvers
Free Shipping available on all orders