Description
Cameras
Capture your world in an all-new way with HERO4 Silver, the first-ever GoPro to feature a built-in touch display. This model brings more convenience than ever to your shoots. All you have to do is view, tap and swipe the screen when you want to control the camera, frame shots and play back content. The HERO4 Silver captures 1080p60 and 720p120 video with lifelike clarity, along with 12MP photos at a staggering 30 frames per second. Combining new experience-enhancing features in addition to everything you know and love about previous models – like waterproof housing up to 131 feet (40m) -the HERO4 Silver is versatile and powerful. Enjoy pro-quality capture with the convenience of a touch display. Please note: Coming Soon for iOS 8. HiLight Tag Use this feature to mark key moments for easy playback, editing and sharing. QuikCapture This new feature allows you to power on the camera and start recording with the press of a single button. Built-In Touch Display Frame your shots. Easily adjust settings. Play back videos and photos. Professional Video Quality Records stunning 1080p60 and 720p120 video. Fast, Powerful Photo Capture Captures high-quality 12MP photos at speeds of up to 30 fps. Built-In Wi-Fi + Bluetooth® Delivers enhanced connectivity to the GoPro App, Smart Remote. (Smart Remote is a remote control that is sold separately) Protune™-Now for Photo + Video Cinema-quality capture and manual control of Color, ISO Limit, Exposure and more. Night Photo + Night Lapse Customizable exposure settings up to 30 seconds for single and Time Lapse photos. SuperView™ Captures the world's most immersive wide-angle field of view. Auto Low Light Automatically adjusts frame rates for optimal low-light performance. High-Performance Audio Powerful new audio system captures clean, high fidelity sound and nearly 2x the dynamic range of the previous model. Improved Camera Control New dedicated button enables quick access to camera settings. Simplified menus make navigating settings easier than ever. Ultra Wide-Angle Glass Lens Enables engaging, immersive footage of you and your world. Selectable FOV Three FOV settings-Ultra Wide, Medium and Narrow-allow for a broad range of perspectives. Durable + Waterproof The HERO4 Silver Edition is designed to withstand extreme environments and conditions. It's waterproof to 131 feet (40m). Wearable + Mountable This camera enables immersive self-capture during your favorite activities. Compatible with all GoPro Mounts The HERO4 Silver Edition can be used with all GoPro mounts and accessories for capturing a wide variety of perspectives and activities. GoPro App + Software Control your camera remotely. View and share your content. Easily create gorgeous, GoPro-style videos. What's in the box HERO4 Silver Camera with Built-In Touch Display, Standard Housing 131 feet (40m), Skeleton + Touch Backdoors, Rechargeable Battery, Curved Adhesive Mount, Flat Adhesive Mount, Quick Release Buckles, 3-Way Pivot Arm, and one USB Cable.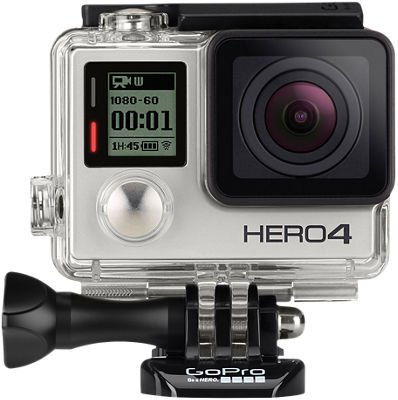 Catalog Name: Verizon Wireless Product Catalog
Manufacturer: GoPro
Keywords to find us: Built-in touch display for framing shots, adjusting settings and more!
Capture stunning video in resolutions up to 1080p60
Shoot the action with a 12 megapixel camera, up to 30 frames per second
Free Shipping available on all orders