Description
Batteries
Keep your phone, camera, tablet or other USB-ready device powered up when on the go with this compact portable charger. Equipped with a battery that retains more than 90 percent charging capacity after 1000 charges, the Sony USB Portable Charger also features two USB outputs for charging multiple devices at one time. Plus, it's pre-charged and ready-to-use right out of the box Sony's USB portable chargers provide on-the-go back up power. They are specifically designed to provide portable energy backup to today's mobile communications and entertainment devices such as smartphones, tablets and more. The portable chargers have an aluminum body making them lightweight and easy to take with you wherever you go. What's in the box One Sony USB Portable Charger 10000mAh.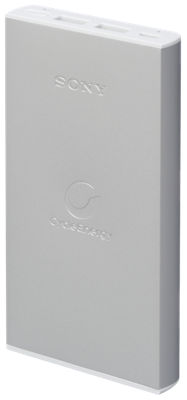 Catalog Name: Verizon Wireless Product Catalog
Manufacturer: Sony
Keywords to find us: Keep your mobile device charged when you're out
Superior performance from 10000 mAh Li-ion Polymer rechargeable battery
Pre-charged and ready to use right out of the box – no wait time!
Free Shipping available on all orders