Description
Quick Picks
The Speck StyleFolio for the Ellipsis 10 brings together sleek style and reliable protection as a 2-in-1 cover and stand. The latest product to join the Speck family of beautiful, high-quality protective tablet cases, the StyleFolio has been lab-tested for durability with improved back protection. And the vegan leather finishing looks smooth and feels even smoother. Full perimeter hard shell and anti-scratch liner The StyleFolio all-around protective hard shell keeps your Ellipsis 10 snug and scratch-free. The soft inner lining protects it from accidental bumps, drops, and spills. Vegan leather cover with seamless design Vivid colors and high-resolution patterns garnish StyleFolio's easy-to-clean vegan leather cover, making your tablet look better than ever with a seamlessly chic design. Secure closure clasp A locking clasp secures your device in either a folded mode or shut for when you're on-the-go. Multiple viewing angles Whether you're reading, typing, or re-watching your favorite YouTube videos, StyleFolio has the perfect angle for you.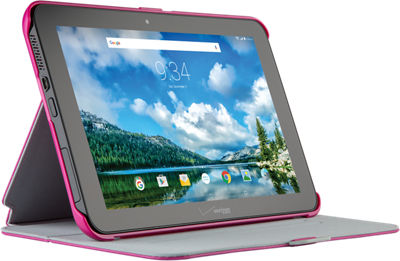 Catalog Name: Verizon Wireless Product Catalog
Manufacturer: Speck
Keywords to find us: Combines all-around protection with a stunning design
Multiple viewing and typing angles for your comfort
Premium materials, design finishes and contrasting, stylish colors
Free shipping available on all orders.